As you are starting the process of window replacement for your Barrie area home, it is helpful to have some knowledge of standard window sizes to help you make an informed decision.
In this article, we shall discuss the different components of windows Barrie, as well as the standard sizes for windows. This will help you to choose the best windows for every room in your home. Moreover, it can give you an idea of the general cost of window replacement. This can help you determine whether you wish to install standard size or custom designed windows.
Facts about Standard Windows Sizes and Components
It is important to keep in mind that while windows companies might vary in the style and design of their windows, the basic components of windows are universal. This includes frame profile window sizes, brick molds, casings, and jamb extensions. All of these must be designed correctly so your windows are as durable and energy efficient as possible.
Brick Mold
The brick mold component of a window is actually a molding on the window that is used to cover the exposed areas between the window frame and the wall. In addition, it functions as a sealant from air and water leakage. According to the standard window size for Canadian windows, the size of the brick mold will generally align according to the size of the brick mold of the existing installed window of your home. In typical window replacements, 1-inch brick molds are used. However, they can range from ¾ to ⅞ inches in size. There are some instances in which plank brick mold is recommended.
Casing
Window trim, or casing, is one of the most aesthetic window features. Although most windows companies stock a variety of sizes for window casings, standard window sizes for vinyl windows range from 2 ⅝ inches to 3 ⅜ inches. Round window casings are typically around 2 ⅝ inches. Keep in mind that the size of the window casing is determined by the size of the brick mold for each window.
Jamb Extensions
It is the component of your window that is used to cover all the exposed areas of the window rough opening. In addition, jamb extensions join the window frame and the window casing. Sizes of jamb extensions are determined by the thickness (width) of the window itself. As they may vary among windows companies, there are several custom and standard sizes of window jamb extensions available on the market.
Canadian homes with 2 by 4 constructions will typically require 1 ⅜-inch jamb extensions while homes with 2 by 6 construction will need 3 ⅜-inch jambs. Standard sizes for window jambs are typically 3 ¼ inches. Keep in mind that if your home has siding, you will need larger window jambs. Some windows manufacturers also carry 2 ⅜-inch or 4 ⅝-inch jamb extensions for those who have custom design features on their windows.
Window Profile
Another aesthetic component of windows is the window profile, or the width of the window frame. It is important to keep the size in mind when you are installing new windows or adding new windows to already existing ones. This would be the case if you were adding casement windows alongside picture windows.  
For example, end vent and hung slider windows have a narrow or low profile frame while awning and casement windows have a wide or high frame. Picture windows and other fixed windows can be designed in both profile options. It is important to keep the window frame profile in mind when pairing different combinations of windows.
One of the most visible options that you can consider at the time of installing new windows or combining them with existing used windows is the profile (or the width) of the frame. Do not overlook the fact that high profile windows allow less natural light, as they have a lower surface area for window glazing.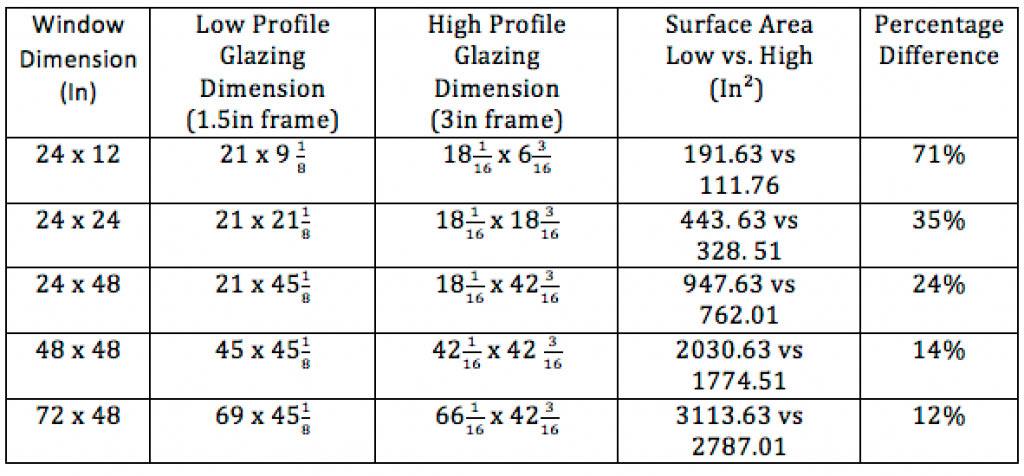 Contact Atlant Windows if you have any further questions on standard window sizes, components, or features. We will work together with you to choose the best windows for your home. Call us today to get started with your home renovations.